Thanks to the internet we are living in the golden age of learning. There is no shortage of online training courses to help improve skills in just about any subject.  On this page, I will lay out some great courses that are all designed to improve your craft and writing skills. We will focus on Masterclass Writing courses taught by best-selling authors.
I will try to add more and more writing skills courses to this list as I find quality options. It's a great time to be a writer because what was previously limited to live classroom learning, can now be accomplished virtually online.
Not only is there more access to writing courses than ever before, but the internet has also granted access to expert professors we could have never dreamt of previously.
***Reminder: Links to are affiliate links so if you decide to take one of these classes I may receive compensation from the seller, this doesn't affect the price of the item in any way. If you don't want the commission to come here. Just Google the Course once you know which one you want to take.  Hope it helps.
You can get all the MasterClass Writing Courses With an All-Access Pass if you want to try multiple courses, this is your best value.
GET ALL-ACCESS PASS FOR ALL COURSES
---
Learn The Art of Powerful Story Telling from Margaret Atwood's MasterClass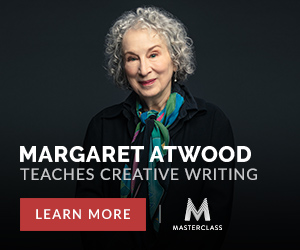 Margaret Atwood, author of The Handmaids Tale has long been called "The Prophet of Dystopia." In her first ever online course, she teaches how she crafts compelling stories—from historical to speculative fiction—that remain timeless and relevant. Explore Margaret's creative process for developing ideas into novels with strong structures and nuanced characters.
Learn how the best-selling author goes about creating her masterworks in this 23 lesson writing course that will help you improve the impact of your creative writing. This is a must-take course for any dystopian author but really any aspiring writer that wants to take their creative writing to the next level.
MEET YOUR NEW WRITING INSTRUCTOR

Some of the most interesting lessons in Margaret Atwood's  creative writing class include:
Lesson 1: Getting Started as a Writer
Lesson 2: Story and Plot
Lessons 5 & 6: Covering Point of View and Case Studies
Lesson 8: Creating Compelling Characters
Lesson 9: Writing through Roadblocks
Lesson 11: Revealing the World through Sensory Imagery
Lesson 19: Speculative Fiction Case Study: The Handmaid's Tale
Enhance Your Creative Writing by Taking Margaret Atwood's Course Now
Learn How to Write a Best Seller From James Patterson MasterClass
James Patterson, the author of 19 consecutive No. 1 New York Times bestsellers, reveals his tricks of the trade for the very first time. In this course, he guides you through every part of the book writing process.m
James really tries to lay out a plan on how to write a best-selling book in this writing course.
The course includes 22 lessons on writing. It includes over 3 hours of video that lays out everything from crafting your novels outline to getting published.
Some of the lesson highlights from this 22 lesson writing course by James Patterson include:
Lesson 3: Raw Ideas- How to identify a Great One
Lesson 6 & 7: Mastering The Outline
Lesson 10: First Lines: How to grab your readers attention
Lesson 12: Building a Chapter
Lesson 13: Writing Suspense
Lesson 17: Getting Published
Lesson 19: Marketing The Patterson Way
Learn How to Write A Best Seller With James Patterson Now
---
R.L. Stine's MasterClass Course Teaches You about Writing for Young Audiences
Award-winning novelist R.L. Stine wrote jokes and funny stories for 20 years before he switched gears and became a horror-writing legend. Since then, the author of the Goosebumps and Fear Street series has sold more than 400 million copies. In his first-ever online class, Bob takes the fear out of fiction writing. Whether you're a beginner or a pro, you'll learn new ways to conquer writer's block, develop plots, and build nail-biting suspense that will thrill young readers.
This course is great for any budding writer, but you should definitely give it a try if you are focusing on writing fiction geared toward younger audiences. Learn writing from someone that has been widely successful doing just that.
This 28 lesson course has a ton of great information, here are some of the lessons are most interesting to me.
Lesson 2: The Idea Store
Lesson 4: Getting from Idea to Plot Outline
Lesson 5: Outlining Surprise Endings and Cliffhangers
Lesson 6: Outlining Plot Twists and Tricks
Lesson 9: Writing for Different Ages
Lesson 11: The Key to Scary Writing: POV
Lesson 13: How to Scare Your Readers
Lesson 21: Developing a Book Series
Check Out R.L. Stine's Full Lesson List Here
Malcolm Gladwell's Masterclass Writing Course Teaches You To Transform The Ordinary
Ketchup. Crime. Quarterbacks. Thanks to Malcolm Gladwell, these ordinary subjects have helped millions of readers devour complex ideas like behavioral economics and performance prediction. Now, the renowned storyteller and best-selling author of Blink and The Tipping Point is teaching his craft online for the first time. Write stories that captivate by learning how Malcolm researches topics, crafts characters, and distills big ideas into simple, powerful narratives.
Here is a quick introduction video to Malcolm Gladwell's Writing Course.

Students of the 24 Lesson Masterclass give it an average rating of 4.7 out 5 Stars. Here are a few of the lessons that stick out to me.
Lesson 2: Structuring Narrative: The Imperfect Puzzle
Lesson 3: Holding Readers: Tools for Engagement
Lesson 10-12: All About Characters: Description, World Building, and Case Study
Lesson 15: Tone and Voice
Lesson 16: Humor and Melancholy
See The Full Lesson List Here
---
David Mamet's MasterClass Teaches Dramatic Writing
David Mamet sat in on a poker game full of thieves and left with the inspiration for American Buffalo. Now, the Pulitzer Prize-winning writer of Glengarry Glen Ross takes you through his process for turning life's strangest moments into dramatic art. He'll teach you the rules of drama, the nuances of dialogue, and the skills to develop your own voice and create your masterpiece.
David Mamet's dramatic writing Course encompasses 26 comprehensive video lessons to help you enhance your dramatic writing.
Some of the lesson highlights include:
Lessons 4 & 5: Dramatic Rules
Lessons 9& 10: Structuring Plot
Lesson 11: Case Study- American Buffalo
Lesson 12: Case Study- GlennGary Glen Ross
Lesson 16: Scenes
See the Entire Course Curriculum Here
---
Learn Screen Writing From Aaron Sorkin's MasterClass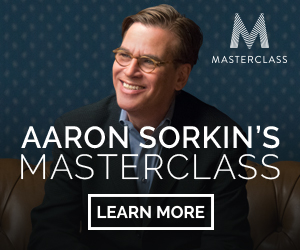 Aaron Sorkin wrote his first movie on cocktail napkins. Those napkins turned into A Few Good Men, starring Jack Nicholson. Now, the Academy Award-winning writer of The West Wing and The Social Network is teaching screenwriting. You'll learn his rules of storytelling, dialogue, character development, and what makes a script actually sell. By the end, you'll write unforgettable screenplays.
I think this is a must-try course if you are interested in getting into screenwriting.  It's not every day that you get to learn from a writer that has been so successful in Hollywood. Take this writing class if you are looking enhance your screenwriting skills.
Here are some of the most interesting lessons from Aaron Sorkin's 35 Lesson Masterclass:
Lessons 4 & 5 Developing Character
Lesson 9: Rules of Story
Lesson 10: Film Story Arc
Lesson 11: Writing Habits
Lessons 17 & 18: Writing Scenes
Lesson 21: Writing Captivating Dialogue
Lesson 22: Dialogue Case study- The West Wing
Browse All The Lessons Course Here
---
Judy Blume's MasterClass Teaches Writing
Judy Blume broke the rules. Her refreshingly honest children's books were banned by hundreds of libraries—and loved by generations of readers, who bought 85 million copies of classics like Are You There God? It's Me, Margaret and Superfudge. In her first online class, the award-winning author teaches you how to invent vivid characters, write realistic dialogue, and turn your experiences into stories people will treasure.
Learn to write classic stories with Jude Bloom in this 24 lesson Masterclass.
Watch this short intro to learn more about this writing course by Judy Blume.
Here are some of the lessons included in Judy's 24 lesson Masterclass:
Lesson 5: Idea Case Studies
Lessons 10 & 11: Creating Memorable Characters
Lesson 13: Dialogue Case Studies
Lesson 16 & 17: Judy's Writing Process
Lesson 20: Rejection
Lesson 23: Career Journey
Browse The Entire Lesson List Here
---
Shonda Rhimes Teaches Writing For Television in Her MasterClass
When Shonda Rhimes pitched Grey's Anatomy she got so nervous she had to start over. Twice. Since then, she has created and produced TV's biggest hits. In her class, Shonda teaches you how to create compelling characters, write a pilot, pitch your idea, and stand out in the writers' room. You'll also get original pilot scripts, pitch notes, and series bibles from her shows. Welcome to Shondaland.
Here is a quick intro trailer for Shonda Rhimes MasterClass.
Here are some of the lessons you can expect if you take Shonda Rhimes Masterclass:
Lesson 3: Finding An Idea
Lesson 4: Developing A Character
Lessons 6 & 7: Developing Memorable Characters
Lesson 8: Pitching Your Show
Lesson 9 & 10:  Writing Script Structure & Process
Lesson 14 & 15: Grey's Anatomy Pilot Case Study
Lesson 22: Beyond the Pilot- Writing Your Series
Take a Look at All the Lessons in the Course
---
Masterclass Full Reviews On Our Sister Site
Check out our sister site RealReviewHub.com for the following full reviews: Masterclass Review and Dan Brown Masterclass Review